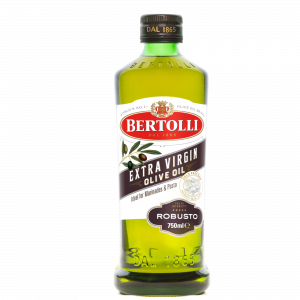 Robusto Extra Virgin Olive Oil
If strength could be expressed as an oil, then this would be it.
Bertolli Extra Virgin Olive Oil Robusto takes notes of almonds, artichokes, herbs and tomato, and skillfully blends them to achieve the perfect balance between spicy and bitter.
Robusto Extra Olive Olive Oil is best paired with:
– Red meats
– Roasting dishes
– Barbequing
Available in 750ml bottles. See Recipes.